Area tropical fish store opens with a splash
Area tropical fish store opens with a splash excerpt posted found from http://www.presspubs.com
By Pat Zeitner/Contributing Writer Mar 28, 2017 Updated Mar 28, 2017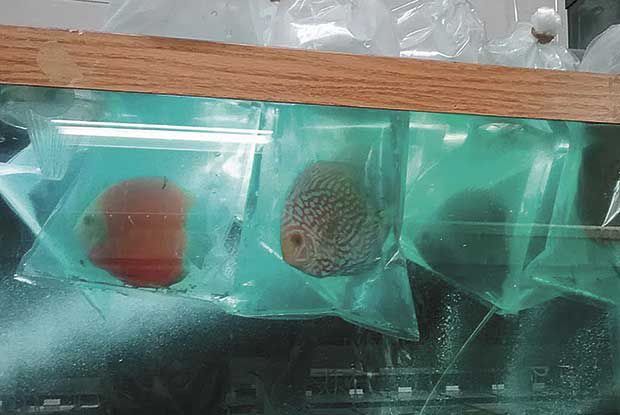 CIRCLE PINES — A new pet shop is making waves in Circle Pines.
Xeng "Andy" Moua and his wife IaOng, or "Mandee," recently opened Quality Aquatics Pet Shop. It is the latest phase of Andy's lifelong hobby with the tropical animals.
"I was probably 10, I was really into fish," Moua said. "As I got older, I was messing with this fish thing for close to 15 years, keeping it at home."
Eventually, he opened a store in Columbia Heights with his brother. "We had it up and going less than two years. That was really new to us. I learned a lot from that experience, so now I have a better idea of what direction I should go with the shop," he said.
"I decided not to open another one again (after closing the store with this brother), but for some reason I couldn't get it out of me, so here we are," he said.
The no-frills fish store is located at 9205 Lexington Ave. N. in Circle Pines, in a strip mall that has become popular with new tenants these last few months. Moua and his wife, who now live in Arden Hills, previously lived in Circle Pines, so they knew the area.
"We didn't really choose this location, it chose us. We came to get our DMV tags around the building, and we saw a vacant sign. I said, 'Let's go take a peek at it.' One thing led to another and we ended up signing the lease the same day," he laughed.
A recent online fish list for the store includes a Peacocks & Haps section with an alphabetical listing of Aulonocara lwanda to Tramitichromis intermedius. There is a Fossorochromis rostratus (female only), and an assortment of extra large male Nimbochromis venustus.
In addition, the store stocks Tanganyika, mbuna, goldfish, koi and plecos. The crocodile pikehead, black ghost knife and Chinese high-fin shark are all listed under the Oddballs category.
"I work with a lot of distributors. I like to carry a lot of varieties," Moua said. "My store doesn't cater to just one specific type of fish. I have community fish, goldfish, koi, African cichlids, discus. I try to carry every type of fish I can. You never know what a customer is going to want."
Some customers may want a Leichardti arowana, listed at $239 and change. One of his most popular fish is the silver arowana, just under $22. "That's a ranchu, he's being a goofball," Moua points to a knobby round gray fish dancing around as if he knows he has an audience.
Moua sells feeder fish that can go home with the buyer's new freshwater fish. Aquariums and accessories are not yet part of his inventory.
Although Moua's fish store is new in this neighborhood, word gets around. "I have customers from Wisconsin, Fargo, Iowa — I was surprised. I didn't expect that deal," he said smiling.
Moua used to work in auto body repairs. "I wasn't passionate about it like I thought I would be. I'm more passionate about fish than cars."
learn more..