Koi Pond Cellars moving to new location
Koi Pond Cellars moving to new location
Excerpt found at http://www.thereflector.com/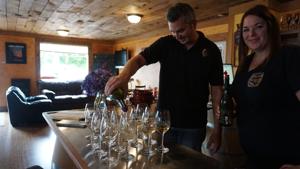 Posted: Wednesday, November 9, 2016 12:00 pm
This past August the owners of Koi Pond Cellars purchased a six-acre parcel of land and look forward to opening a brand new tasting room in the spring of 2017.
Situated about eight miles from their current downtown Ridgefield location, the new venue offers considerable advantages both for wine fans and personally. One of the most exciting features may be that Koi Pond now completes a convenient four-mile winery loop that includes Bethany Vineyard and Three Brothers Vineyard.
As founding members of the Southwest Washington Winery Association, this move solidifies Koi Pond's commitment to help Clark County increase vines.
"We want to plant at least two, maybe three acres here," said Michelle Parker, co-owner along with her husband Wes. "We feel like having more vines in the area is crucial to the wine industry growing here."
Drainage is already in place thanks to the previous owners who thought they might add grape vines at some point. The Parkers will plant moisture-tolerant pinot gris and pinot noir as well as tempranillo — a varietal that Wes has a particular affinity for and that is being grown in Clark County with a measure of success. To keep up with production demands, they will continue to purchase grapes from other established sources including the Columbia Valley, Walla Walla and the Willamette Valley.
Koi Pond is the second company owned by this entrepreneurial couple. Since 2004 they've been importers of Japanese koi and sell these prized fish nationwide as Children of the Sun Koi. At any given time, Children of the Sun can have from 1,000 to 4,000 koi in inventory. Relocating onto an expansive property allows the couple and their two children to live on site; have the winery, tasting room and cellar within steps of their front door; and merge both ventures into a singular, cohesive space.
"Our plan back in 2010, when we decided to go forward with winemaking, was always to have the koi, our residence and the winery on one parcel. It took a few years but this ended up being the right time," Michelle said. "This property fills every single need of ours and our businesses and we have two wineries as neighbors so this is the perfect spot." read more